Hi Folks
Download here
http://homepage.ntlworld.com/glenn_cassidy/Fraps_2.9.5_Build_7472_Retail.rar
Just a quick run down on how to work with fraps.. very small program for something thats very useful.. It has mainly 2 functions.. primary is Video record and secondary.. has screenshot ability..
Only 4 tabs.. and sits on your screen on top of everything.. when minimized, it goes to the system tray (the thingy beside your clock.. bottom right)
k.. anyways.. lets get cracking
Tab1: General
not much here.. cracked version.. who owns it.. these are my default options
Tab2: FPS (Frames Per Second)
Well here.. basically displays the frames per second on screen when you have fraps loaded.. either while recording or not.. it will show yellow when not recording .. will show red when you are recoding... again.. keeping the options similar to mine.. you shouldnt need to worry about it.. I keep FPS enabled just so I know if its recording or not.. sometimes I forget.. the overlay confirms it.. red for recording.. yellow if your not (this does not show on the actual recording itself only on your screen)
Tab3: Movies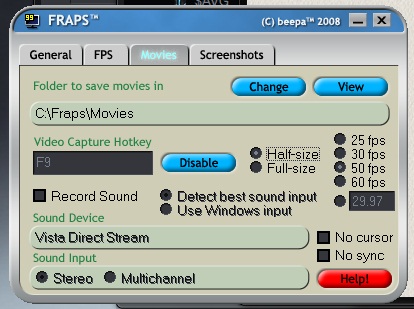 K.. where here's the tab that makes a lot of difference to video... top part.. Folder to save in.. choose one you'll remember.. even handy just to make a folder in your desktop and point it to that.. it will save all videos to there.. and handy for sending and editing..
Video Capture Hotkey: well..basically this is the key u will use to start and stop recording..
Half-size/Full-size: Choose half size here.. you wont lose much in quality.. and you'll save a shit load of hard drive space.. and this will help lots when you gonna upload stuff...
FPS: I have mine at 50 fps.. this is efficent enough for any smoothly running video.. the lower the number the less frames.. the more skippy and jumpy it will be.. again.. due to trying to save disk space.. (only cause u will upload or send shit later).. u dont want to make the video file too big.. 50fps or 30fps will be suffice.. but if you got tons or hard drive room and kick ass connection for uplaods.. 60fps really does look da bomb
Record Sound: this is in-game sound.. again I have this personally disabled.. cause I like to add my own back track.. like some kick ass song or something that inspires.. but if u wanted to include the game sound during your vids.. you can enable this.. but this will increase file size..
No cursor: This is if you want to record the cursor on the screen.. useful you want to specifically highlight skills and such your using.. but if using it for montage and artwork.. u can disable this.. (during my BSG montage.. I had this enabled.. and u'll see on the video.. that the dumb cursor kinda spoils it a little)
Tab4: Screenshot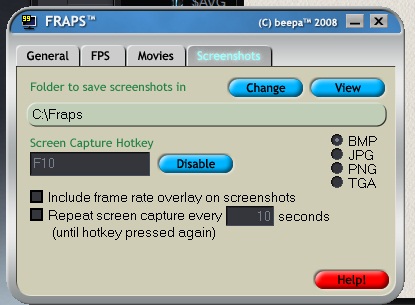 Again.. you can choose the folder in which you want to save screenshots.. maybe put it on desktop for quick retrieval, also u can choose which format.. BMP or JPG are probably the best and most compatable in this case.. BMP for quality.. JPG for compression.. but the quality is hard to tell unless your fine combing it.. again.. choose a hotkey...
Thats it ladies.. thats you recording games
Reply with any issues or questions (you need to register account to reply).. also will help with video editing and uploading for anyone that needs it.. will make new posts for this
Cheers guys
S.
Admin




Posts

: 130


Join date

: 2009-06-03


Age

: 42


Location

: Derry, N.Ireland





Similar topics
---
Permissions in this forum:
You
cannot
reply to topics in this forum